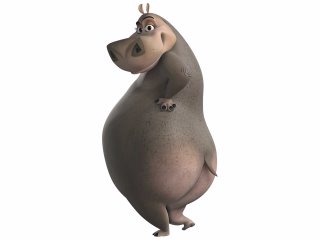 Naked and vulnerable, I was stepping into the shower this morning when I hear a tiny giggle behind me.
"Mommy, your butt is bouncy…like Gloria on Madagascar."
Dejected, I shower and emerge to tell the Kaiser what his son thought of my ass.
"Wow," said the Kaiser.
And then nothing. It was the typical male "if you can't say anything nice" freeze.
Yes, the baby will be 1 at the end of next month. Yes, I'm still carrying a dozen or so extra pregnancy pounds. Yes, I've given up the diet while focusing on my mental health. I can honestly say chocolate is the reason I did not kill anyone during the worst of the post partum.
So, I suppose, it's now time for my hippo ass and I to get back on the wagon. It is Fat Tuesday afterall.
Tomorrow starts my own Lent. I'm calling it the Hippo Diet. Who's with me????