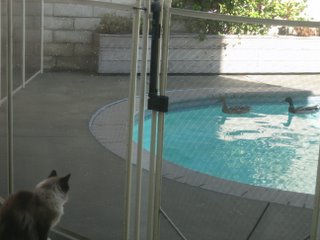 It was almost as good as Christmas, without the mess. Or inlaws.
I realize this may seem trivial to you, but Count Waffle's head nearly exploded when he came downstairs this morning to find ducks in our pool.
He's named them Baynasor and Jaynaysor or some such nonsense. And he's telling everyone. We weren't out of the car in the school parking lot this morning when he was attempting to tell other mother's getting out of their cars. I think this is the biggest thing to happen to this child since cupcakes. (yes, a cupcake reference. I'm hungry, so sue me)
All of this also reminds me that this child of mine is growing an imagination. And I feel like I'm 3 again watching it all. He tells me stories of fish and the sea and what color the fish is (orange) and his name (Didgit) and his friends (a snail and a shark). He talks about the sea tickling his toes and pretends to see shooting stars on our bedroom ceiling. He likes to tell me how it was dark inside my belly, and he heard pretty music while he was being born.
We planted a garden together a few weekends ago. And every morning Count Waffles wants to check and see if there are cherries or strawberries or tomatoes or apples yet. When we get outside, he's fascinated by a pill bug and will tell you all about it for the rest of the day.
"Did the pill bug crawl, mommy?"
"Was the pill bug tickling me?"
His innocence knocks me to my knees and reminds me how special childhood can be. How wonderful life really is. And how thankful and giddy this Mom can be to watch her son, watch a few ducks splash in a pool.