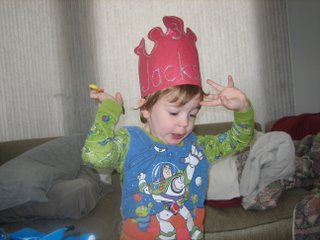 3. 3. Three. three. THREE.
He's 3 today.
I want to go on and on saying things like "where did the time go?" and "how did he get so big?" but I'll spare you.
Instead, let me lament a bit about the bundle of emotions that is a 3-year-old. That picture there-that's a good one. Because you can see the stress and tension in his face. It's over how to get cake on his fork. The Dora fork, NOT the Spiderman fork. And the cake is on the THOMAS plate, NOT a yellow plate.
Had some fool tried the Spiderman fork or a yellow plate, God help them. God help them.
There are good parts too my interweb friends, don't let me fool you. He now can tell me how much he loves me. Did you know he loves me inside, AND outside, AND EVERYWHERE? That includes all the way to the moon and back. You see, I'm his best Mom. Red is his best color. And circles are his best shape.
This also means he can tell me to go away. And not to look at him. He really prefers I keep his sister a good three arm lengths away at all times. Oh, and she's not allowed to speak. Or cry. Or touch anything. Even if it's hers.
We're going to watch "A Bug's Life" about 3 times today. And we're going to be outside gardening. He's requested a Happy Meal for lunch, and chicken hot dogs for dinner. We'll even go to the park, since the clouds seem to have finally parted around here.
We're also going to try underwear. Again. We've hyped the "you're three today! 3-year-olds wear underwear!" thing. So far, he's not buying it. He'll tell you he's still 2, and 2-year-olds wear pull ups. When you remind him he's 3 now, he'll say "I'm 2, just a little longer…"
If only it were so easy.