Yesterday I was forgetting to sunscreen the kids and baking my prodigies as we ran through our favorite park.
Today…the wettest Spring in Southern California has once again emerged. Just when you thought it was safe to break out the sidewalk chalk, the heavens opened and I am again at a loss with what to do with these children.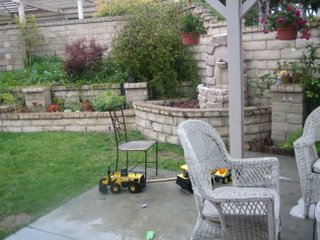 I'm tapped out. I'm not the creative/crafty Mom type anyway. So give me my usual handful of bad weather days around here and I will run the gamete of "movie marathon," "color/finger paint/stamp fun," "clean, cook, and do laundry with Mommy," or the really popular "here, have this toy while Mommy blogs" game.
The good news is our garden and plants are loving this mild weather. Normally it's nothing but scorching heat and wind. I'm having to trim my vines weekly they are growing so fast with all this rain.

We've been to the mall. We've hit the stores, grocery and otherwise. And the Count has taken to impaling an apple with a garlic press for entertainment. That's where we are at people. Fruit is being mutilated.
Oh, the humanity.
I'm open to rainy weather suggestions…but if anyone says "Chuck E… " or suggests a craft-I'm banishing you from my blogroll.