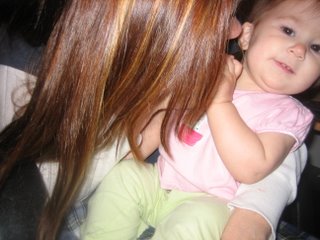 Go HERE.
And then GO HERE, and tell Fred Meyer (it's a store) to suck it.
I've had it.
I think Marrit at Baldo hit the nail on the head with this one,
"Breastfeeding isn't harmful or unsanitary. It's not comparable to urinating on the floor. It's food going into somebody's mouth. If you have a problem with that, then you're going to be really busy policing for people eating in public. How many people are you going to see eating in public today? Are you going to be offended? Then don't look at them. American people want their lives to be totally antiseptic. We want to float around all day long in our individual bubbles of privacy and personal comfort. The world is our living room, and we want everyone on their company manners. If you don't like mothers and babies, then by all means they should be expected to hide from you and not offend. It's their problem, not yours. What's a three-month-old doing in a store anyway? Aren't you supposed to be on house arrest? Don't you know that children annoy all the Real People who have a right to assembly? You might inconvenience someone. These are strange times. Women are losing our reproductive rights, but we're expected to raise children entirely in private without burdening anyone."
I nursed Princess Peanut in the Emergency Room the other day. I didn't bother to cover up. She was hurt. She was upset. It did not occur to me to be discreet and it did not matter. At least, it didn't cross my mind that it should, until some pervert janitor kept walking by, staring out of the corner of his eye. And walking by again. And again. And again. The garbage had been emptied. The floor swept. He had no reason to keep coming by, except to try and catch a glimpse of my tit.
I think we're dealing with a larger problem here ladies. And until we stand firm with the men around us that these are working breasts first and sex objects second (if at all) we will continue to feel humiliated, oggled, and embarrassed about feeding our children in public.
The embarrassed part pisses me off. Because many of us were raised to think we should cover up. Raised for his pleasure. Raised for pleasing those around us. Raised to be an object, not a contributor. I get mad at the mom's who won't breastfeed in public. Because they feel "weird" about it. I say they feel weird because society tells them too. Because in the back of their minds, there is something wrong with exposing your breast to feed your kid.
Fuck them. Fuck that idea. And fuck you if you have a problem with it.
Think about what Marrit said first our reproductive right…
Control our wombs and you control our destiny. Control what comes out of our wombs. Control, Control, Control.
Stop being meek. Stop covering up. Stop buying into the idea that bottles are just as good. It was pushed on our mother's to make having a baby seem convenient. Start being a fucking MOM and do what those freaking things on your chest were meant to do. Don't do it for 6 weeks and feel accomplished. Do it for what the REST OF THE WORLD DOES IT FOR, except us too busy to be bothered Americans. (that's TWO years for those of your too lazy to click on the link)
I'm sick of this playing nice and saying "it's your choice, bottle or breast." Fuck that. I'm done. If you can't breastfeed, that's one thing. Then there is no choice. If you choose not too…that's another.
Those tits are not for your husband. They are not there to sit up and look pretty, playing peak-a-boo with all the men in the room.
They are there to feed your kid. And if those fuckers can't handle looking at them, too God Damn bad. And if you can't handle whipping them out to feed your kid, maybe you're not the mother you thought you were. And maybe you need to get over exposing your boobs or using your boobs for something other than fun time with your significant other.
Rant over.
Congrats to Mocha Momma and Christina. I'm sending you both to blogher.
And since I want everyone to go give Fred Meyer and earfull, I'll post the winning posts this weekend.