I finally feel like I've conquered Post Partum Depression and Anxiety.
I think.
Maybe.
I'm pretty sure.
Just as it was tricky to figure out I was going through PPD, I'm now finding it difficult to determine if I've won the battle. My psychologist has me coming in once a month, if I feel I need it. My kids are, overall, much happier. My husband is getting a ton more tail than he used to.
So what about me? How am I feeling?? At peace, really.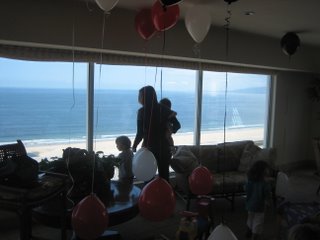 Don't get me wrong. I still get angry. I still get upset. I still lose it with these small people in my house every once in awhile. But it's for good reason, and usually after I've been pushed for hours.
We're outside nearly every day. We've planted a garden. We go to the park.
I don't think every stranger we run across is a potential kidnapper. My heart no longer pounds when my son darts across the playground from one slide to the other. I don't lay in bed wondering what natural disaster will sweep my family away. I don't worry needlessly that my husband will be killed on his commute.
But am I cured? And more importantly, is it really gone?
My therapist says this is typical. Once you feel good for awhile, you worry it won't be permanent. But I'm more worried that if I do start slipping back into those old habits, I won't notice.
It was so hard to figure out I was suffering from PPD, that I can't say for sure we'd spot it again, right away.

I'm also finding myself becoming an advocate for other mothers. I want them to know they are not alone. They are not imagining it. And they can get help. Even though I'm nearing the end of my battle, I still feel shame. I'm not sure who to blame for that, but I really want to blame someone. Or something. Society? I'm not sure.
Why don't we take women seriously? How many years did I cry and vomit and plead with doctors for help before I was diagnosed with migraines? You should have seen the looks I got when I told them I had fuzzy spots floating in my eyes before each attack.
Now how many years will it be before PPD women can be easily and quickly diagnosed without the shroud of shame that comes with "mental" and "hormonal" issues.
I'm learning to get past that shame. And stand up for the many women who aren't ready to stand up yet. Who's with me??