I have earthworms, free coffee grinds from Starbucks, and an obsession over squirrels.
I'm a flower floozie. Although in my case the term should probably be flower whore. Who are we kidding, right?
I've thrown myself headfirst into gardening. Partly because of my postpartum depression. And partly because it's a family activity.
It has now completely taken over my life, and my yard.
I dream about gardens. I can smell mine in my sleep. I have plotted every inch of my yard. It's all mapped out on a very worn piece of computer paper. I know where the sun hits what plant at what time of day. Where each sprinkler head sprays. How my soil drains. Where my soil is mostly clay.
I know. I know. It's insane. But I tell you, it's healing me. And it's healing me in ways far beyond PPD.
When I'm angry, I pull weeds. I trim vines. I yank and I pull and I get dirty and sweaty and tired. Until I'm just not that angry anymore.
When I'm happy, I plant. I plant marigolds to keep away bugs and pests. I tend to my tomatoes. I search for caterpillars on my zucchini.
When I'm anxious, I hunt squirrel.
Laugh at me, it's ok. But I have a bumper crop of strawberries going and those damn furry things keep stealing them just as they ripen. Imagine waiting weeks and weeks for the reward, only to have it carried away by some bastard rodent.
The whole family has gotten in on the act. The kids each have watering cans. They follow me around the yard as I trim and rake. Count Waffles knows the names of almost everything we've planted in the fruit and veggie garden. He can tell you which trees are cherry and which are apple. Princess Peanut insists carrying her kid blue shovel each time I grab my adult sized shovel. They both help me pour beer into planted plastic cups to catch snails and slugs.
Even the Kaiser is contributing. He stopped me from buying a gun to kill the neighborhood squirrels, and fashioned a chickenwire fence instead.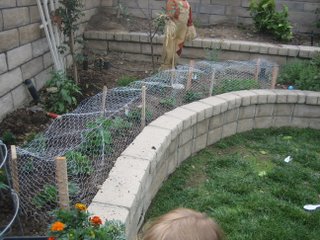 We're all outside together. As a family. Working toward ripe tomatoes and jalepenos for summer cook outs. And it feels good.
So far, that's just my food garden. I haven't even touched on the flowers. Yet. OOOOOH the flowers. My new babies arrive this week. Columbine, German Catchfly, Verbascum, delphinium, Githago, Viola, someone stop me…because I can go on for hours.
My goal is to make our yard a showplace. I want to give TOURS of my garden. I'm a long, long way from that. But I'm off to a hell of a start.
As my garden grows, I heal. As my hands get dirty, I heal. I'm in the sunshine, I'm being physical.
Fantastic therapy right in your own backyard.