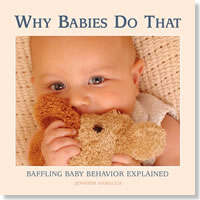 ****Queen's note: There is more debate going on in The GREAT CROTCH WARS of 2006 over at CUSS, if you can't get enough of the Poon (thank you Suzanne) talk.
I've got Oprah on the brain (I blame YOU MOCHA) and since it's my day on the Baby Blog Book Tour, I actually have a great shower gift if you need one:
Why Babies Do That by Jennifer Margulis.
We loved her Toddler book and when I was asked to review her new work, I couldn't resist.
Why Babies Do That explains acne on your newborn, and all that other crap that you couldn't figure out those first few weeks home from the hospital when you were begging your mother to stay just one more day.
This is the first time I was asked to review a book, so when I got it…and saw the pastel cover and it's odd size, I thought…crap…I'm going to have to totally diss my first actual gig.
And then I read it. It's quick. It's convenient, and as I found out…you can totally use one hand to nurse a baby, and flip through it while on the toilet. WOW! The odd book size had a purpose!
So as I sat there nursing the baby and reading…and discovering answers to questions I would have loved to have had when my first kid came along. And I thought…well, HELL! This would make a great gift! I would have loved something this short and easy instead of the manuals and textbooks on babyness I had around back in the day!
There you have it. And the happy, pastel baby cover just needs a bow.