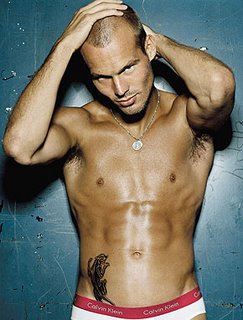 Ok, at the risk of sounding like the biggest GIRL ever, I really need to get this off my chest:
Holy Crap, soccer players are HOT! Why didn't anyone tell me this earlier? Seriously. Soccer players kick every other sport in the world's ass in the "cute boys" category. Assuming that category exists. I guess it does now. I really think if more US women knew this little fact, those network types and marketing types could totally sell the crap out of this whole "most popular sport on earth" thing.
I can see it now, millions of American husbands and boyfriends sitting down this morning to watch that whole US some random country Angelina Jolie visits game, and BAM! Wifey hears through the grapevine soccer players are hotties and the next thing you know men and women are actually -gasp- spending time together watching a game. Sorry, a match.
Wait. Maybe that's bad. Maybe it would be better if women just had World Cup watching parties of their own. With other women. Then we can drink our girlie drinks and talk about abs on a player and that last bogus red card with abandon.
I realize this makes me look like I don't know my way around sports. And I'm just another dumb girl watching sports. NOT TRUE. And I can back that up, go ahead and test me.
But I'd be dead if I didn't notice those cute boys kicking that bally thingy.
CrossPosted at Draft Day Suit