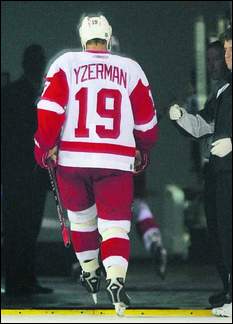 **updated at 748am PST. He's retiring. The Queen is crying.
I'm trying NOT to vomit. Or get all worked up. But rumor has it that Monday's news conference called by Wings management is in regards to the future of Captain Steve Yzerman.
I'm finding it hard to breathe. I haven't been able to really, truly talk hockey since the Wings season ended abruptly. It's not that it took me this long to get over getting knocked out of the playoffs. It's not the lack of Cup this year. It was the uncertainty regarding Yzerman's future.
I can't put into words what this athlete, in particular, means to me. Other than he gave me a reason to sit with my Dad and watch countless games. To go and see live games. To talk until after my bedtime with my father about the Wings strengths, weaknesses, and their chances at the post season.
As a young girl, my father played hockey every Thursday and Sunday night. After his games, he always went to the bar. Around 2am I would hear the car pull up. The door close. Then the trunk close. The snow would crunch with footsteps and I would hear the creak of our back door.
My excuses varied from night to night…but I always managed to find my way out of bed and into the kitchen. I needed a glass of water, a snack, whatever. Just so I could sit with my Dad and talk hockey.
He would smell like smoke and beer and be more talkative than usual, simply because he had a few in him. He would always empty his hockey bag as we talked. If it was the dead of winter, he would put his gloves on the radiator to dry and try, jokingly, to rub them in my face. The smell of your father's wet, smelly, hockey glove is something you never forget.
He would tell me stories of how Joey Kocur and Bob Probert went golfing with his buddy Jerry last week, and Joey still had open sores on his knuckles from that fight in Toronto last month.
He would tell me how Stevie really banked one home in that OT against Chicago on Thursday and how he saw a guy when he was 17 use a move like that, but not quite as smooth. He would tell me all kinds of things about Yzerman, simply because I was a 14-year-old girl and Yzerman was the hockey equivalent of Ricky Schroder.
I would nod and ask a question here or there. Just to keep the conversation going. And eventually, my dad would notice the clock and tell me how mad my mom would be if she knew I was up and send me back to bed.
I have no idea what the Wings will say at the presser. I have no idea what Yzerman will do. I just know, that this is my Jordan. This is my Bird. This is my Montana. This is my Aaron.
Do I want him to retire? To play just one more year? Should I think about what is good for the game? The league? His health?
I don't know. And it sounds like Stevie wasn't so sure either. A decision was to come within days of the season ending. Then weeks. Then by the draft. All deadlines passed. Me still unable to think about the future yet. I really hope this decision comes at the news conference. Limbo is no fun. I need to either move on, or gear up to try and get to the Joe one last time to see Stevie Y play.
Maybe I'll talk my Dad into going. Not an easy feat for a daughter in California and a father in Florida. But for this game. This player. I just might try and make it happen.
Crossposted at Draft Day Suit