Hi Carly (aka Miranda Cosgrove),
It appears you are my son's very first crush. He's 6.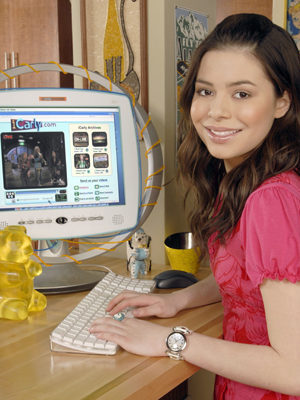 As a mother, I, of course, have some concerns. But overall, I'm ok with you being the object of his desire.
He seems to think you are prettiest and funniest girl on the planet and even drooled (no really, with real drool) when he saw your DVD on the shelf at the store.
You are the reason his father taught him the phrase "humminahumminahummina," and for that, I apologize.
You're a web chick (in theory), you don't wear revealing clothes, you seem, by all tabloid accounts, to stay out of trouble.
On camera you stick blueberries up your nose and make chicken soup in a toilet. What 6-year old boy wouldn't love you?
However, and this is a big however…if you go all Britney on me…I will be forced to ban you, your show, and your network. Harsh, I know…but in this day and age I just can't risk my little guy's heart and mind to the wiley ways of a wayward girl. He'll get enough of that in his real life when the time comes, this I am sure. Hell, he gets enough of that from his own mother. So he really doesn't need it from the fictional female he adores.
In short, don't disappoint me. Please.
No pressure, really.
Xoxoxox,
Erin