The White House came to BlogHer. They are not fooling around about wanting to hear from the people on health care.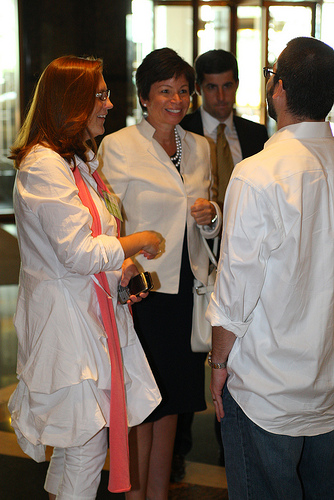 I know you are probably already shaking your head at me.
They aren't really going to care what I have to say.
They don't really take our ideas and do anything with them...
The best example of just how serious this administration is about hearing from you that I can give- When Loralee from Loralee's Loony Tunes told her health care nightmare of a story to Senior White House advisor Valerie Jarrett (and we all sobbed) she also explained that her husband is a conservative and afraid of "socialism."
Loralee continued to share and continued to tell Ms. Jarrett that her family, her own husband, isn't buying the White House rhetoric.
Valerie Jarrett and Loralee's uber conservative husband have a call scheduled for Monday.
Yes, the President's senior advisor wants to talk to him. Personally. She wants to talk to EVERYONE who thinks like him, to SET THE RECORD STRAIGHT.
Which brings me to YOU. The White House isn't kidding. They aren't paying lip service. TELL THEM WHAT YOU THINK about their health care reform plan and if you DO NOT LIKE IT give them your ideas.
I'm sending your feedback directly to White House staff. Leave me a comment. Email me (erin.kotecki.vest@blogher.com) and make sure your story and your voice and your ideas are heard.
*photo curtosey of Rick at Tiny Prints