I really think you need to suck it up and realize what was normal for US as kids is not normal for OUR kids.
Sure, get fresh air, get exercise, go play outside…but let's face it, when it comes to 'play a game' or 'read a book' all of that is now done digitally.
Yup, that means their iPads or their computers or their phones…ONLINE.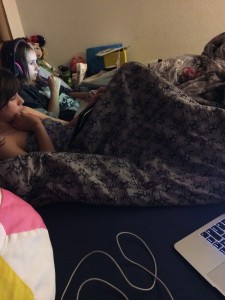 I was recently reading a few posts about bloggers limiting screen time, not even allowing their kids any screen time and even some who refuse to allow their children to play any games at all or use any 'smart' devices.
Not to start another Mommy war but… are you TRYING to handicap your child? You do realize the world is a very different place than the one we grew up in and certainly WORLDS away from the one our parents grew up in- meaning just about everything is digital these days.
My kids research their homework using their iPads. My kids play with the their friends in virtual worlds like Animal Jam and Club Penguin. My son meets up with his buddies in Destiny and Borderlands. That's social and educational.
Their projects in school are in minecraft and contain websites with links to their homemade videos. They link to their sources instead of write them down. They dictate their essays and email their teachers.
They know more about cyberbullying than kickball and can rattle off more youtube video makers than actors in Hollywood.
I'm entirely ok with all of this. So is their Dad.
Go on, hate away. But my kids are learning to do all of the things we learned to do, just throw in code and type at a much younger age. Yes, they pilot drones and use google maps to make sure our roof isn't hiding any wayward frisbees…and yes, they stare at a screen as much as they like. It doesn't mean they aren't learning and it doesn't mean they don't get any exercise.
It just means times have changed and the book they are reading is stored on their iPad and the homework they are doing requires they watch a video embedded on the Smithsonian website.
Then to relax they put on their headphones and mics and have a virtual playdate with their buddies across town I can't drive them to anyway because dinner is nearly ready.
So do your kids a favor…lay off the strict rules and timers when it comes to their gaming consoles and phones and tablets and computers. Think of it as your parents forcing you to shut off your radio or your walkman or putting away your TeenBeat or your D&D game. Actually, it's more like them making you come in from outside instead of creating that imaginary game with the neighborhood kids…because that's exactly what our kids are doing with their friends, it's just their imaginary worlds are way more colorful and their costumes are super cool.