Let's face it, we became parents by having sex* and sex is usually somewhere on our minds. It's time to be more open about "doing it" and communicate our issues with sex and all it encompasses. I want to empower women to embrace who they are as sexual beings. I want to talk about all the issues we never speak, but want to get out.
With that in mind I've created, with some awesome help, Queen's Bedroom. Where you can come to talk about all those things you can't even discuss with your best friend. Where you can come to tell your husband where to find your g-spot…where you can admit you want a threesome or admit your sex drive is gone since having kids.
Come. Sit on my bed. Giggle. Play. Don't be afraid.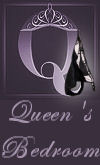 *and yes, those who adopt do it too 🙂