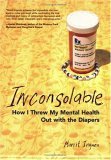 Anne-Marie at A Mama's Rant sent me this book in one of my darkest hours. A tribute, I think, to the power of this blogging community. My psychologist calls it my own little support group. And she's right. Because it was here, and by here I mean the cyber here, that I realized I wasn't the only one. And here that total strangers reached out and offered me advice, comfort, even books.
So in that spirit, I'm going to do what Anne-Marie did, and mail this book off to the next Mutha Blogga who needs it. I know some of you may not be blogging about your PPD, or really care to leave me a comment discussing it, so the first person to email me and ask for Inconsolable by Marrit Ingman will have it mailed to them, as it was mailed to me. Just one Mommy to the next.
All I ask is you do the same when you are done. Hand it off to a Mom who needs it. ***book no longer available***
queenofspainblog@yahoo.com
p.s. I'm over at BlogHer today!