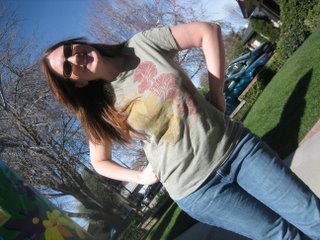 Here is my fat, Hippo Ass. I weighed in at 138.8lbs. Not horrible, but boy is it distributed funky.
You will note my hips could carry a litter of children. My left boob remains full, while my right boob is deflated. My granny flab on the underarm could trap insects and small animals. I seriously need a haircut and color. And the middle…dear god the middle of me is nothing but stretch marks and fat, folded over fat, over fat, over some more fat.
I'm also convinced that my nose grew during pregnancy. But unless you know a good surgeon, there's not much a diet can do for that.
So, my goal is 130lbs. And tone. I want to be toned. Enough so I won't feel totally self-conscience wearing a sleeveless shirt this summer.
I am also making a one-time-only deal with the Kaiser. I lose the weight (again) and he can pick one item from my current wardrobe of sweats and t-shirts to burn and replace with something a bit more revealing. Will he choose my flannel pants? My HUGE, Redwing, red PJ bottoms?
Come on HIPPOS! Get your posts up and email me at queenofspainblog@yahoo.com. We're in this together.
…blogger sucks it today, by the way…and I'll be over at BlogHer as soon as these kids take a freaking nap.