There's an article in Time, written by Belinda Luscombe, that has had me swearing for a few hours now.
In her piece "Why Some Women Hate Sarah Palin" she comes to the conclusion Palin is disliked because we're all catty bitches who act like it's high school, or something like that.
Me? A catty bitch? (photo by Micah)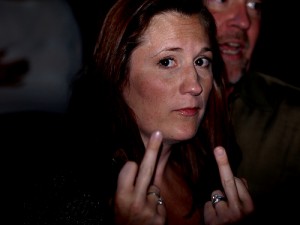 The problem here is this is not the first time I've heard this sort of argument. In fact, it seems to be the new way to fight all the criticism directed at Palin "Oh, you just don't like her because women love to hate other women."
Luscombe writes:
1. She's too pretty. This is very bad news. At school, pretty girls tend to be liked only by other pretty girls. The rest of us, whose looks hover somewhere around underwhelming, resent them and whisper archly of their "unearned attention." So, if everyone calls your candidate "hot," you're in a whole mess of trouble. If the Pakistani head-of-state more or less hits on her, well, yes, she'll get a sympathy vote, but we're in Dukakis-in-the-tank territory. It's an admiration vaporizer. (Of course a candidate can't be too ugly, or it will scare the men, who are clearly shallow as a gender.)

2. She's too confident. This also bodes ill. Women have self-esteem issues. But they also have other-women's-esteem issues. As almost any woman — from the head of the Budgerigar Breeders association to Queen Elizabeth — can attest, it's almost impossible to get confidence right. Too timid and you're a pushover. Too self-aggrandizing and you're a bad word unless it's about a dog, or Project Runway's Kenley. Or Michelle, my best friend until 9th grade, after she won that debating prize and got cocky.

3. She could embarrass us. History is not on Palin's side. Every time a woman gets a plum job, be she Hewlett-Packard's ex-boss, Carly Fiorina, or CBS's Katie Couric, there's always that whispery fear that people will think she got the job just because she's a woman. So if things don't go well — and a couple of YouTube clips have suggested that they're certainly not going well for Palin — women are the first to turn on her for making it harder for the rest of us to louse up at work."
Not only do I call bullshit, but I also smell a rat.
McCain picks Palin to obviously court female voters, female voters say "who? really?"
Female voters educate themselves on Palin (yes, we do that…).
NONconservative female voters revolt.
McCain team scratches head. (and balls)
Palin starts to tank.
McCain spin machine realizes sell to "Moms" and "average women" isn't going as planned, paints Palin as victim of "gotcha journalism, evil media, catty women."
Let's be clear here. I will admit women operate differently then men, however we certainly are not attacking Palin because she's "pretty" or "confident." In case this writer missed the memo, here are MY reasons for not voting for and fighting against Palin with everything I have in my arsenal:
#1 She's against abortion in all circumstances including rape and incest.
#2 She would like creationism taught in public schools.
#3 She hoped the Iraq war was a task from God
#4 She denies that global warming is man-made.
#5 She served As Director Of 'Ted Stevens Excellence In Public Service' 527
#6 She believes it was 'Gods Will' to build a gas pipeline in Alaska
#7 She dismisses alternative energy
#8 She opposed expanding hate crime laws
#9 She supports denying benefits to same sex couples
#10 She supports abstinence only policies
Those are just 10 reasons I have some "weapons grade" hate for Palin, none of which have to do with her hair, her clothing, her confidence, or her ability to "embarrass" my gender (even though WOW she's good at that one).
I didn't even touch on her lack of ability to handle the media, her willingness to lie to the American public, her lack of knowledge on many subjects including the rest of the GLOBE,  or the total blatant and obvious way she's been chosen to try and sway ME to vote McCain.
No, no…you see…as it turns out, we're not the mean girls, as Luscombe suggests. It turns out we're just SMART girls.
*special thanks to Think Progress for their Palin Digest
**Pretty, confident, nonembarassing women WE LOVE:
Gov. Kathleen Sebelius, Late Gov. Ann Richards, Michelle Obama, Stephanie Herseth Sandlin, Shelly Berkeley, Debbie Wasserman Shultz, Claire McCaskill, Mary Landrieu, Hilda Solis, Indira Ghandi, Barbara Boxer, Nancy Pelosi, Barbara Mikulsky, Stephanie Tubbs Jones. Betty Sutton, Loretta Sanchez, Elizabeth Edwards, Golda Meir, Benazir Bhutto, Donna Brazile, Gabby Giffords, Marsha Blackburn, Cathy McMorris Rogers, Arianna Huffington, and even Hillary Clinton when she's not using the GOP playbook to win primaries. I will also throw in Condi Rice, because she is smart and qualified, even if we don't agree on issues.

Add your "pretty, confident" favorites to the comments. Because we all know women actually do support other women, and we're not falling for this load of crap that Palin is now the victim of some gender conspiracy. She's the victim of her own incompetence and being on the wrong side of issues we other women are actually knowledgable and passionate over.