Poke.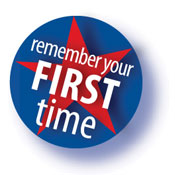 Poke.
Poke.
…and it was over.
I jammed my little fake pencil through those holes, watched the chads drop, got my sticker, and then proudly walked out of the local elementary school. I was 18. And I had voted.
As part of Women's Voices. Women's Vote. I'm telling you all about MY first time.
Just as important as the first time I voted, was what lead up to that vote. The foreplay, if you will…
I turned 18 on December 10th, 1992. I woke up that morning and registered to vote. Then I went and got a tattoo. No lie.
I couldn't wait to vote, all revved up watching Clinton win that November and just missing my big chance to make my vote count in a presidential election. I was editor of my high school newspaper, and I thought I knew how to change the world with just my vote.
Ok, bad example. But my point is I was psyched. And, xxxxxx years later (you do the math, I'm tired) I'm still psyched. Because as much as I'm disgusted with the current state of politics in this country, I still have hope. I still know my vote will mean something. I am still making my voice heard.
Make yours heard this November. 20 million women DID NOT VOTE in the last election. That can not happen again. Spread the word and blog your first time.